Hi, How are you doing? Did you have a great Christmas? We went to Christmas Eve service and afterwards opened gifts. That evening and the rest of the weekend we cooked a lot of good food. We didn't make anything traditional for Christmas Eve dinner at all, we had taquitos with hummus. It was delicious! Christmas morning, I made whole wheat pancakes for breakfast. For Christmas dinner we had swordfish, stacked eggplant and quiona. Between the pancakes and the swordfish, we went to the movies to watch the Chronicles of Narnia; The Voyage of The Dawn Treader. I highly recommend it, it was so good!!! We're going to the movies on New Years day too, but I'm not sure on what were going to see, any suggestions?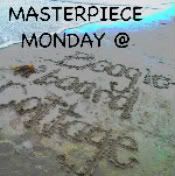 Anywhoo.......
Please come by my blog and join my new link party, Masterpiece Monday.
Link up any of your masterpieces; crafts, decor, recipes, etc. It starts January 3rd, but I'll put the link up on Sunday the 2nd. I can't wait to see all your great ideas!

Happy New Year!