Hi Everyone!
Can you tell what kind of plant this is from?
They remind me of Chinese Lantern branches.
They're tomatillos from my vegetable patch!
I thought they would make a fun Fall bouquet.
My masterpiece this week is a pie experiment that worked out (My experiments don't always work out the way I planned) So, I'm happy this one did. This does contain brown sugar and white flour, but it also has oatmeal and apples, so it's full of fiber. And it doesn't give that store-bought-high-fructose feeling like a lot of other desserts.

And with apples so in season right now, it's easy on your wallet too. I always pick the cheapest and try to use a variety as well. I peel, core and slice 3lbs of apples.

I make my own pie crust for mere pennies. I poke holes in the bottom and pre-bake at 375 degrees for 10 minutes. Click here for my 5 minute pie crust recipe.

In a separate microwaveable dish, add the apple slices and sprinkle evenly with 1/4 teaspoon each; cinnamon, allspice and ground cloves. Microwave for 15 minutes on high.

Stir apples to mix in spices evenly and transfer to the pie crust.

Mix the topping ingredients and spread evenly over top of the apples, completely covering them. Brown the topping in the oven for 10 minutes at 375 degrees.

Enjoy!

Autumn Apple Crisp Pie



Ingredients

One pie crust. My 5 minute pie crust recipe here

filling
3 lbs (about 9) apples, peeled, cored and sliced
1/4 teaspoon cinnamon
1/4 teaspoon allspice
1/4 teaspoon ground cloves

Topping
1/2 cup butter or margarine, melted*
3/4 brown sugar
1 1/2 cup oatmeal (not instant)
1/4 cup flour

1) preheat oven to 375 degrees.

2) prepare pie crust and poke holes in the bottom and pre-bake for 10 minutes at 375 degrees.

3) Place apples in a microwaveable dish. Sprinkle spices evenly on top and microwave for 15 minutes on high.

4) Stir cooked apples to evenly distribute the spices and transfer to the pre-baked pie crust.

5) Completely combine all topping ingredients in small bowl and evenly spread topping over apples. Brown pie in the oven for 10 minutes at 375 degrees.

*I melt my margarine in a glass custard dish in my microwave for 30 seconds on high.




Masterpiece Monday Linky Guidelines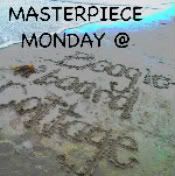 2. Feel free to link up any of your masterpiece's whether they're crafts, recipes, decor, thrifty finds, etc. (Please no direct links to etsy).
3. PLEASE. LINK. BACK. PLEASE.

Have fun!