John 16:22
I will see you again and your heart will rejoice
and your joy no one will take from you.
I remember that morning before going to work, ten years ago. I walked over to where my husband sat watching the news. I stood there in front of the T.V. set, stunned. At first, I thought Charles was watching something devastating happening in another part of the world. He said, "No, it's New York City. Something really bad has happened". I said "This is the United States?!?". My eyes couldn't believe what I was seeing on the screen and my mind couldn't make sense of it at all.
My thoughts went out to all of those people who lost their lives and the family's and friends of those people who would have to deal with the loss.
I still think of these people 10 years later. I pray that they can find peace and comfort in the Lord Jesus Christ and to know that there is a Heaven after this world is pasted away from us, where we'll see our loved ones again.
Until then, I'm glad to see pictures of how well the 9/11 memorial turned out at ground zero. It looks like a lot of love and respect and effort went into the design and it gives everyone an tangible place of remembering.
Masterpiece Monday Linky Guidelines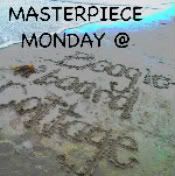 2. Feel free to link up any of your masterpiece's whether they're crafts, recipes, decor, thrifty finds, etc. (Please no direct links to etsy).
3. PLEASE. LINK. BACK. PLEASE.