I'm the map, I'm the map, I'm the map.......
I'm still enjoying those nautical maps I found for free on Freecycle.

So far, I've only used them in my new craft room, but I thought "Old Rusty" might look nice with one as well.

Have you ever tried to measure and cut a huge rolled up map? It's comical to say the least, because the map doesn't want to lay flat for you.



And because of the center double panes, I had to cut the map in two pieces, yet make it still look like one. The easy part was attaching the map with clear tape.

I really like the way it turned out and it was free! :O)


I'm looking forward to seeing your new Masterpieces this week!
Have fun,


Masterpiece Monday Linky Guidelines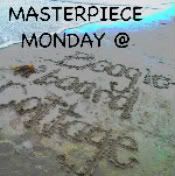 2. Feel free to link up any of your masterpiece's whether they're crafts, recipes, decor, thrifty finds, etc. (Please no direct links to etsy).
3. PLEASE. LINK. BACK. PLEASE.