Hi Everyone! I wanted to say welcome to my new followers and thank you to everyone all for the nice comments you send me, I love them and always read them all.
This is a pumpkin I worked on last year. It used to be painted orange. I just covered it with bits of torn paper and glue. I painted the green stem and leaves black.

This year I wanted to decorate it for Thanksgiving. I had a stash of left over vinyl wall sayings. I clipped them and moved the letters around to create my own saying. I mixed three different sets to get three different fonts to make the message.

Then I just added my Fall stamps in a random pattern. I like the way it turned out and it was so easy and best of all free!

Masterpiece Monday Linky Guidelines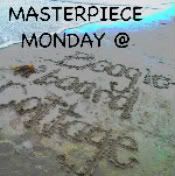 2. Feel free to link up any of your masterpiece's whether they're crafts, recipes, decor, thrifty finds, etc. (Please no direct links to etsy).

3. PLEASE. LINK. BACK. PLEASE.



Have fun!