Hi! Happy first weekend of Spring!
The cuties are back......
This time they're helping me display a little
impromptu milk glass candle-scape vignette.

The little watering can holding fairy is going to help water the lavender.

And the paint pallet holding fairy is going to paint some Spring flowers on the dishes!

Aren't the fairies doing a lovely job? I wish they did windows....

It would be great to wake up one morning to find that your house was cleaned and decorated for you in the night by little fairies, no?

In reality though, I'm it as far as a cleaning crew goes.
But you know, I'm blessed just to have a house in this day and age to clean.

I try to remember to be grateful for things that are so easy to take for granted.

I really don't have the need to go shopping for things too much anymore, to decorate with I mean.

I like to "shop" my house and my own garden or make something.

Sometimes, the best things in life, are free.

Masterpiece Monday Linky Guidelines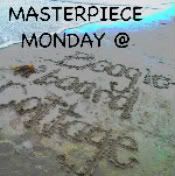 2. Feel free to link up any of your masterpiece's whether they're crafts, recipes, decor, thrifty finds, etc. (Please no direct links to etsy).

3. PLEASE. LINK. BACK. PLEASE.



Have fun!