Hi Everyone, How was your 4th of July? Mine was great, we went to the beach and came home and barbecued and set off fireworks with the neighbors. Simple and fun, just what I love!
Over the weekend, I did a super easy, affordable update to the TV cabinet in our bedroom. I've been trying to make up my mind if I wanted to make some fabric or burlap curtains for the inside.
Then I remembered this scrapbook paper I purchased recently.
All I did was tape the paper to the inside. It looks like I've added wood to the doors! It adds to the non-cluttered, calm, coastal feeling that I like our bedroom to have.
The remote to the DVD player still works through the paper. I can't see the player anymore, but it's still easy to tell if I've successfully paused a movie by looking at the TV screen. Or I can just leave the doors open.
Satisfaction Through Christ
Kolture Shoq
Time to get this week's party started!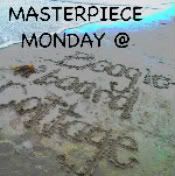 1. PLEASE. LINK. BACK. Please include a direct link back to my blog party.

2. Feel free to link up any of your masterpiece's whether they're crafts, recipes, decor, thrifty finds, etc. (Please no direct links to etsy or other sales sites.)

3. Please do not pin from the party, go to the original blog and pin from there


Have a blessed week,