Hi Everyone! I hope you're having a great Mother's Day weekend. I decided to go to a flea market and thrift store this morning, which is one of my favorite ways to spend time on the weekend, without spending a lot of money. I found this adorable retro brass sailboat with a marble base.

I have a difficult time bargaining. It just isn't my forte. Everything I've learned is by watching how others do it. Some people bargain so effortlessly and I really admire it. First of all, I've learned that there is not any one way to bargain and each situation and person you bargain with is different. I prefer to keep it short and sweet. For the sail boat, I simply held up the boat and the vendor, who was several feet away from me, held up four fingers. I held up one finger (no not that finger, my index finger!) He held up two fingers. I held up one again. He shook his head no and I walked away. He flagged me down and said I could have it for a dollar! It doesn't always go that way, but sometimes it's just a game. My Second find at the flea market was this cute wicker covered bottle.


I've been on the look out for wicker covered bottles. The ones I've found were always too pricey. When I saw this sitting on the table at the flea market, I was afraid that they were going to ask a lot for it. I put on my best poker face and didn't show too much interest in it. I picked up a few other items and asked about prices and learned that this vendor was very reasonable. I asked about the wicker bottle and was told four dollars. It was a very good price. I knew I would pay that amount for it, but just out of curiosity, I smiled and set it down and walked out of the space. Then I turned around with three dollar bills in my hand and asked if they would except three dollars for the bottle. I was told yes! The moral to that is, it never hurts to ask.


Unfortunately, you cannot bargain at thrift stores, but that's OK, Goodwill has half off each week on certain colored stickers. I found these two coastal prints for 2.99 each. And they were half off! On the back it said they were originally sold by Pier One Imports.

I rearranged my gallery wall using them for a simpler look.


I also transformed my coffee table lantern into a succulent terrarium and added shells and driftwood and sea colored pebbles.


DIY Polka Dot Doormat by Suburban Wife, City Life



Armoire Makeover by Ever Evolving Life 4-5




Ful Medames by Simply Fresh Dinners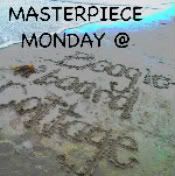 1. PLEASE. LINK. BACK. Please include a direct link back to my blog party.

2. Feel free to link up any of your masterpiece's whether they're crafts, recipes, decor, thrifty finds, etc. (Please no direct links to etsy or other sales sites.)

3. Please do not pin from the party, go to the original blog and pin from there


Have a blessed week,