Welcome to 199th Masterpiece Monday!
I'm sure the majority of you already have your kid's Halloween costumes all picked and ready.
But just in case you're a last minute costume maker this year, I wanted to share a very easy, quick and frugal costume idea that anyone can make!
Just start with some old or thrifted clothing. Simply cut and/or tear them up! You can use face make-up to look like a zombie, or add a monster mask.
My daughter wanted to be a scary bride, so we scoured the thrift stores and found a gown marked half off at $12.00.
She went to town on it with some scissors and a lot of ripping. She also cleverly added a red ribbon she already had to the back zipper area for a gothic look. She just poked holes in the material and threaded the ribbon through.
Here it is, nicely ripped and torn!
A friend of hers gave her a leftover can of fake blood spray for free.
And my daughter asked me to spray her dress for her.
This was actually pretty fun!
She went to a friends Halloween party last Friday and won a prize for the scariest costume!
Don't forget to grab a featured button
Time to get this week's party started!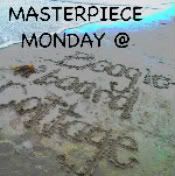 1. PLEASE. LINK. BACK. Please include a direct link back to my blog party.

2. Feel free to link up any of your masterpiece's whether they're crafts, recipes, decor, thrifty finds, etc. (Please no direct links to etsy or other sales sites.)

3. Please do not pin from the party, go to the original blog and pin from there





Have a blessed week,