Welcome To The 201st Masterpiece Monday!



Hi Everyone!




I've become very fond of the Mid Century Modern look. I don't plan on having all of my furniture MCM, but I've been admiring the many MCM pieces I've been seeing online, especially the cabinets.




Upon a recent trip to Goodwill, I happened upon this stereo cabinet for $39.99

!

I plugged it in at the store and it played one of the store records and the radio works. But for the price, I would have bought it anyway.
The finish on it is exceptional. I'm guessing this stereo cabinet had only one owner.
I like the chevron shaped wood grain pattern on the front and I like the shape of the feet, which do not wobble at all. This is a pretty sturdy piece of furniture.
Since re-arranging my living room , I've hoped for a piece exactly like this. It was really surprising to find it so soon, and at Goodwill for such a bargain price, yay!
Don't forget to grab a featured button!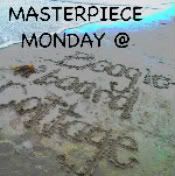 1. PLEASE. LINK. BACK. Please include a direct link back to my blog party.

2. Feel free to link up any of your masterpiece's whether they're crafts, recipes, decor, thrifty finds, etc. (Please no direct links to etsy or other sales sites.)

3. Please do not pin from the party, go to the original blog and pin from there





Have a blessed week,