Hi Everyone!

I really like artichokes and usually, I just boil them until they're soft and dip them in melted butter or mayo.

I wanted to come up with something different that didn't require me to dip an otherwise healthy veggie into so much fat!




Start with with four small artichokes, which was enough for three people

Slice off the stem. Remove and discard any weird little leaves at the base.




Clip off the sharp pointy stickers along the sides and slice an inch or two off of the top with knife.




Slice them in half and IMMEDIATELY squirt them with lemon juice. If you don't they will turn brown quickly.
Scoop out the feathery center. I used my handy dandy grapefruit spoon. I never use it for grapefruit, but it's one of those very versatile utensils I use for lot's of other things.



Now for the extra virgin olive oil. Drizzle it all over your artichokes. Top with whatever seasonings you like. I used Italian seasoning mix and freshly minced garlic. I didn't use any salt, but you can add that too.







Wrap your baking dish tightly with foil. Place into a preheated oven at 425* and bake for one hour or until they are fork tender at the heart portion.



These are so good and best of all, they don't need dipping!




Don't forget to grab a featured button!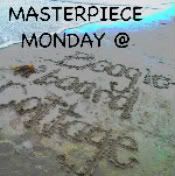 1. PLEASE. LINK. BACK. Please include a direct link back to my blog party.
2. Feel free to link up any of your masterpiece's whether they're crafts, recipes, decor, thrifty finds, etc. (Please no direct links to etsy or other sales sites.)
3. Please do not pin from the party, go to the original blog and pin from there