I know, I'm pretty fickle with my dining chairs lately. The truth is, I've always wanted some beachy looking wicker dining chairs. They've always been too pricey for me. I really liked my mid century modern chairs I found thrifting and decided to be happy with them until I found my wicker chairs. I just never dreamed I'd find them this soon, if ever.
I found them at Saver's Thrift Store. They were $24.99 each. I had a 30% off coupon which made them $17.50 each! I re-donated the other chairs, which were also from Saver's.
Don't forget to grab a featured button!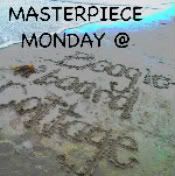 1. PLEASE. LINK. BACK. Please include a direct link back to my blog party.
2. Feel free to link up any of your masterpiece's whether they're crafts, recipes, decor, thrifty finds, etc. (Please no direct links to etsy or other sales sites.)
3. Please do not pin from the party, go to the original blog and pin from there