Make your own Spring vine display!
My husband had to trim away some of our jasmine...
I thought it was too pretty to just throw away.
I came up with a way I could display a long vine.
I rubber banded two branches, placed them into a
narrow vase filled with water and glass pebbles.
Then placed it into a larger vase with more pebbles for visual interest.
I placed the vine in the vase and then laced the rest
I draped the last half over my bird cage, and added a random clipping
to a canning jar. I love using canning jars for flowers!
jasmine lasts a long time...
and the scent is so beautiful!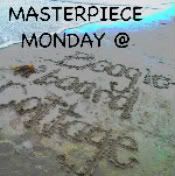 Masterpiece Monday Linky Guidelines
1. Please link to the specific post, not your blog!
2. Feel free to link up any of your masterpiece's whether they're crafts, recipes, decor, thrifty finds, etc.
3. Please include a brief description in link up.
4. Grab my Masterpiece Monday button on the sidebar and include it in your post or a link to Boogieboard Cottage so people can find you and more great ideas.
5. Please check and make sure your link works. If it doesn't you can delete it and try again.
6. Please no direct links to sales sites, i.e. ETSY or just a plain ol' commercial site, we are looking for your home made masterpieces we can recreate, thanks!
Have fun!