A masterpiece in the making.......hopefully.
I put together a little container garden while I finish the rest of the garden I've been working on. I bought a strawberry,

big tomato, cherry tomato and tomatillo,

and some sweet mint, for my favorite Summer drink, iced tea! :O)

I found one of hubby's guitar picks of all things while moving things
around and added it as a planter decoration.

Everything you see here was curb found for free, except the shovel and plants. They're from Home Depot.

I'm going to cover the black plastic tarp with bark. I love plastic tarp,
It's the easiest way to block out the weeds.
Have you ever heard of this gardening method? I found this book at GW several years ago and I just love it.
Lasagna Gardening is just another way of saying sheet composting.

After making raised beds on top of newspaper or cardboard, you add thin alternating layers of peat moss, compost, fertilizer, lawn clippings, etc. You can do this right on top of sod without digging! Yay!



I'm almost finished with the hard-scaping part of the garden. Everyone of these broken cement pieces were laid out flat under where the container garden behind now sits. It wasn't working out as a patio, so I made it into a raised bed. I laid down a large piece of cardboard first to block out weeds till I'm ready to plant.



The cement pieces were free from Freecycle.org, and also the red bricks too.

I made this brick pathway a couple of years ago and decided to pull them up and create a barbecue area for hubby for fathers day.

I'm glad that the hard part is almost over, because I think my arms are
going to fall off! Next will be the fun part. :O)



Masterpiece Monday Linky Guidelines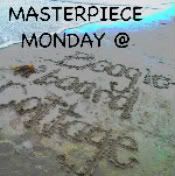 1. Please link to the specific post, not your blog!
2. Feel free to link up any of your masterpiece's whether they're crafts, recipes, decor, thrifty finds, etc.
3. Please include a brief description in link up.
4. Grab my Masterpiece Monday button on the sidebar and include it in your post or a link to Boogieboard Cottage so people can find you and more great ideas.
5. Please check and make sure your link works. If it doesn't you can delete it and try again.
6. Please no direct links to sales sites, i.e. ETSY or just a plain ol' commercial site, we are looking for your home made masterpieces we can recreate, thanks!