Hi Everyone!
I just wanted to say thank you for always leaving me
such kind and encouraging comments, I read and appreciate
each and every one!
This week I'm going to reveal yet another portion of my new craft room.
But also, first, I'm including my ceiling as well!
I've been racking my brains for weeks, to come up
with a lamp shade solution for my ceiling fan.
I was coming up empty.
Then the other day whilst puttering around in my craft room, I got me an idea!

I've seen people use blue glass jars as chandeliers, so why not for ceiling fans?
Hoping upon hope that it would fit. And it did fit, like a glove, it was so easy! And free!

Yay!!!!!!!! I'm so happy with it!!!!!

And now, onto my next Summer painting project. It's a small one, but I've held onto this little cabinet for a long time. It's been sitting in the garage and now it's moment has arrived.

I painted and lightly sanded the edges. After hanging it, I added some vinyl lettering on the wall above it from the dollar store. The words are from my favorite scripture~1Corinthians 13:1-13.

The antique sewing machine and stained glass lamp have also been living out in the garage.
The dress form mannequin I found at the swap-meet for 5 dollars and the wire base was a curb find. (Am I the only person who says "swap-meet? I've never read it anywhere else!)

The package of vintage mounting corners were my grandma's and
the vintage spectacles I found for a dollar at a yard sale recently.

I make and also collect jewelry from thrift stores, yard sales, etc.


I'm really looking forward to viewing all of this weeks masterpieces you've created!

Have Fun,



Linking with White Wednesday at Faded Charm





Masterpiece Monday Linky Guidelines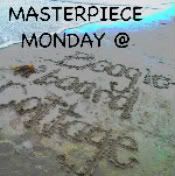 2. Feel free to link up any of your masterpiece's whether they're crafts, recipes, decor, thrifty finds, etc. (Please no direct links to etsy).