I recently posted about some Model Homes. I absolutely fell in love with the way they were all decorated. All of them were coastal inspired, each in it's own unique way.

I'm still enjoying the pictures I took about a month ago. Many of the pictures I took knowing that I wanted to recreate the coastal decor elements that so inspired me!

This lamp diy is the first in in many to come from my model home inspiration.


I love this lamp! I don't currently need a lamp of this size. Although I might make one in the future, if the need arises.

For now though, our hallway light has been long over due for an upgrade! As you can see from the pic below, it's not a pretty sight and the blurry photo doesn't help! Most of the time, it's been easy to ignore. But whenever I notice it, it makes me cringe a little.

I tell myself that the rusty look is "in", but in this case, it was unintentionally caused from being too close to the bathroom shower. And it doesn't look or feel very "in" to me!



Inspiration hit me when I was at the 99 cent store and found these wire plant holders. I bought two, intending to make them into a bare wire cage with a decorative light bulb.

I went to the hardware store to buy some rust covering paint. I walked past the rope isle and I remembered the model home lamp. So I bought 50' of sisal rope as well. And my idea was born! Make a smaller version of the inspiration lamp.

I removed the chain using needle nose pliers. I used some of the chain to fashion a hinge, so that the shade could open to easily replace light bulbs. I hot glued all 50' onto the shade, it was fun and super easy! Again, sorry about the blurry pic below!

I tried to fashion a wire closure, but that was an epic fail, so I decided to make it easy on myself and use string, which worked like a charm!


OK, two more blurry pictures, while trying to figure out how to hang my new creation with more wire, which also was another epic fail, I used string again. It was so much easier and worked much better!

Last blurry pic. I found this new light bulb at the store on the sale cart for $1.75. Much cheaper than the the decorative ones at the hardware store. It looks purple, but it's not. It's called a crystal clear 40 watt and looks cuter than my spiral energy savers. We don't use this light too much, so I don't anticipate a higher bill.


Any way, here it is. It cost roughly 6-7 dollars including the light bulb!

I think it has a nice coastal vibe!



It looks kind of cool lit up at night, with the patterns it makes on the walls. And it's not so glaringly bright anymore. Yay.

This week features!
Shabby Love
Don't forget to grab a featured button
Time to get this week's party started!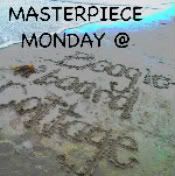 1. PLEASE. LINK. BACK. Please include a direct link back to my blog party.

2. Feel free to link up any of your masterpiece's whether they're crafts, recipes, decor, thrifty finds, etc. (Please no direct links to etsy or other sales sites.)

3. Please do not pin from the party, go to the original blog and pin from there


Have a blessed week,