Welcome to the 202th Masterpiece Monday!




It's that time of year when we like to snuggle up with a cozy blanket and a warm beverage. It's also the time of year when we need an immunity boost to help combat colds and flus, and to help keep us from being run down by stress and an extra busy holiday schedule. I'm an advocate for taking vitamins and supplements, but I believe in never hurts to do more, via natural foods in our diets.


I love hot chocolate. I prefer homemade, but I don't always like getting out the milk and babysitting it on the stove to prevent the milk from scolding. I don't like all of the chemicals in the instant hot chocolate at the stores. So I decided to check around on the internet and I found a recipe that I really love on the Splenda website, for Spicy Dark Hot Chocolate Mix There are some chemicals I read on the label of the creamer I used. But I rationalized that the amount used in this recipe are pretty low. And even though I don't think Splenda is bad for you, you can opt to use a different sweetner. I know, not everyone agrees on sweetners, but that's O.K. Everyone is entitled to their own opinion. All of the other ingredients are pretty natural and the over all recipe is loaded with antioxidants, immunity boosting abilities and a host of other health benefits. Here are some links for the health benefits of dark chocolate, cinnamon, and cayenne pepper. What a delicious, relaxing way to stay healthy!
Sometimes I add the mix to my morning coffee, yum!


I quadrupled the recipe. So my jar holds 24 servings! I fill a glass measuring cup with one cup of water and microwave it for three minutes. I add a third of a cup of the mix to a mug and stir in the hot water. This is the best mix I've ever tasted, way better than the store brands and I think more economical too.
If you have guests dropping by, just heat a pot of water and you're all set! Serve a little something healthy and energy boosting like nuts. (they'll be offered enough sugar this season!)
Also check out your local thrift store and dollar store for party ware.
My polka dot napkins and lights are from The Dollar Tree and my wooden and brass nut bowl, mugs and serving tray are from thrift stores.

This Weeks Features
Don't forget to grab a featured button!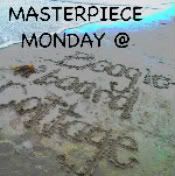 1. PLEASE. LINK. BACK. Please include a direct link back to my blog party.

2. Feel free to link up any of your masterpiece's whether they're crafts, recipes, decor, thrifty finds, etc. (Please no direct links to etsy or other sales sites.)

3. Please do not pin from the party, go to the original blog and pin from there





Have a blessed week,