Hi! How was your weekend? Mine was busy but fun. This is the first year I've ever decorated my bedroom for Christmas. Today, I'll take you on a little tour of my dresser. I've never realized how fun decorating a dresser can be, (maybe I need to get out more?) it's very much like decorating a mantel.
This was my Grandmother's dresser from her little beach cottage in Newport Beach, CA.

I "shopped" my house to come up with a white wintery look.

Most of everything you see here........

Is from the dollar store or GW.......

or a yard sale or 50% off after Christmas sale.




You don't need to spend a lot of money, especially if you keep an "eye out" all year long.

And many of the things I've used here, I've used for plenty of other holidays.

Neutral is the key to decorating in my book.

This folding mirror as well as the mirror behind it were Grandma's too. She was an antique dealer who inspired me at an early age to love yard sales and going to GW.

I hope that you're having a blessed holiday season!

I'm linking up with Kathleen's
White Wednesday over at Faded Charm
today.
Masterpiece Monday Linky Guidelines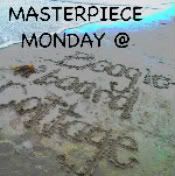 2. Feel free to link up any of your masterpiece's whether they're crafts, recipes, decor, thrifty finds, etc. (Please no direct links to etsy).

3. PLEASE. LINK. BACK. PLEASE.



Have fun!