Happy Father's Day to all of you! And to all of you like me who don't have a father in their lives, this Father's Day, remember that you have a heavenly Father who's always there and always loves you!
Masterpiece Monday Linky Guidelines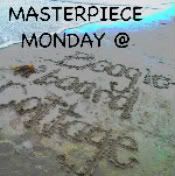 1. Please link to the specific post, not your blog!
2. Feel free to link up any of your masterpiece's whether they're crafts, recipes, decor, thrifty finds, etc.
3. Please include a brief description in link up.
4. Grab my Masterpiece Monday button on the sidebar and include it in your post or a link to Boogieboard Cottage so people can find you and more great ideas.
5. Please check and make sure your link works. If it doesn't you can delete it and try again.
6. Please no direct links to sales sites, i.e. ETSY or just a plain ol' commercial site, we are looking for your home made masterpieces we can recreate, thanks!
My masterpiece the week is some great
stuff I found this weekend at GW.
My favorite find is the blue marble bread pan.
A beautiful blue enamel coffee pot for $5.99 and
white enamel Pottery Barn plates with aluminum rims for $3.99.
I also found these patriotic table cloth clips for $1.99.
And these cool beachy cup holders also $1.99.