Hi, How's your weekend going so far? Now that all of the hard part is out of the way on my side yard, I've been arranging and foufing around things. In particular, the little Bar-B-Q area.

It's made up of all curb found furniture and a free umbrella from Freecycle. This weekend, I added some thrifted items as well, such as a Pottery Barn pot I found at a yard sale for one dollar! One of the handles is missing, which doesn't bother me.

Until I add a plant to it, I decided to repurpose it into something else. Sooooo... I went "shopping" around my house for some ideas.



I brought out some of my pebble and shell stash........


My little table top fountain and one of my recently thrifted dish finds.......





The "new" pot.....




I decided to make a tiny little water fountain area.

Someone sure does love the warm bark!

And there you go, super easy water feature. The "candles" all light up in the dark too!
I like kicking back in the shade and listening to the sound of it, very soothing.

Here are some random shots of some of my freebies; rusty chippy side table and rusty candleabra. curb found bench and cushion. Freecycle pillow case stuffed entirely with plastic grocery bags!

My Hubby made a color bowl from curb found plants and a pot he found.

I can't believe that this was a curb find! I rolled it over next to the barbecue which is also a free curb find. It'll hold platters and cooking utensils with ease.

I love my hanging style umbrella, it makes the right amount of shade for this area and I still can't believe it was from Freecycle!

And there you have it, a month ago this area was a weed patch,
and now it's a very cozy spot for relaxing this Summer!
Masterpiece Monday Linky Guidelines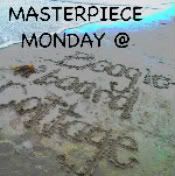 1. Please link to the specific post, not your blog!
2. Feel free to link up any of your masterpiece's whether they're crafts, recipes, decor, thrifty finds, etc.
3. Please include a brief description in link up.
4. Grab my Masterpiece Monday button on the sidebar and include it in your post or a link to Boogieboard Cottage so people can find you and more great ideas.
5. Please check and make sure your link works. If it doesn't you can delete it and try again.
6. Please no direct links to sales sites, i.e. ETSY or just a plain ol' commercial site, we are looking for your home made masterpieces we can recreate, thanks!