Attack of the killer zucchini's......
Don't throw away your over sized zucchini, it's still good! I've read where some people don't eat zucchini when they grow too big. All you need to do is scoop out the center seed area, like you would when de-seeding a cucumber. For some reason it gets spongy. But the rest is still good!
Memories....Last June when the zucchini plants were just starting out.
Tender little zucchini's. We've eaten them barbecued, sauteed, stir fried, you name it.
One great thing about growing them, is that they always produce a lot. Please note the wooden barrel in the far background.
I made the mistake of watering them late in the day and wetting the leaves, which is what causes leaf mildew. Since it's the end of the season, I decided to pull them out.
I'm looking forward to my next crop. This is going to be a year around garden and I've recently started some green beans. Soon I'll add some other winter veggies.
Remember the wooden barrel in the far background? It grew into this.
I've had lot's of green tomatoes, but I haven't had one single tomato turn red yet! Still waiting for those delicious Summer tomatoes, where are they?
The only red I see is this wee little lady bug! I also have a ton of tomatillos, and I'm still waiting for them to mature.
Anyway, I did remember to make some zucchini bread, I almost forgot that you can bake with it too. Check out this huge bowl of shredded zucchini, it's from one zucchini! Thank goodness for Salad Shooters, or I'd have a sore wrist! I have a lot of zucchini bread to bake!
Mom's Zucchini Bread (from recipes.com)
3 C. Flour
1t. salt
1t. baking soda
1t. baking powder
3t. cinnamon
3 eggs
1 C. oil
2 1/4 C. sugar
3t. vanilla
2 C. grated zucchini
1 C. chopped walnuts ( I used sunflower seeds)
Grease and flour 2 8X4 pans. Preheat 325*
Sift flour, salt, baking powder, baking soda, and cinnamon in a bowl.
In another bowl, beat eggs, oil, vanilla, sugar.
Add dry ingredients, beat well.
Stir in zucchini and nuts, until well combined.
Pour batter into pans.
Bake 40-60 minutes. Test with a toothpick.
Cool in pan 20 minutes, then rack till completely cool.
I'm linking to these great link parties, please give them a visit~
Coastal Charm Nifty Thrifty Tuesday
and
Oregon Cottage Tuesday Garden Party
Masterpiece Monday Linky Guidelines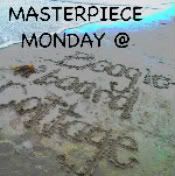 2. Feel free to link up any of your masterpiece's whether they're crafts, recipes, decor, thrifty finds, etc. (Please no direct links to etsy).
3. PLEASE. LINK. BACK. PLEASE.
Have Fun!