I know it's still only January, but I've had Spring on my mind lately. I've been busy with some Summer-turned-Autumn-turned Winter painting projects. I keep this vintage ice cream bucket on top of the fridge. Since I had to move it for now, I decided to make pre-Spring vignette for you.
I'm also waiting to see my new narcissus bulbs bloom. They were were free, from Freecycle.org.
I already had the stones and vases.
I started them on Christmas Eve.
Here they are sprouting on January 4th.
Below is a picture I took today.
The big paint project I'm tackling this weekend is painting the kitchen, finally.
I love this wallpaper border, but it's looking a little dated so off it goes!
It's hard to tell the paint color in my kitchen from these photo's. It's a nice tan color like most of my walls. But it's too dark for my kitchen, because there's a lack of natural light. The color makes my kitchen feel like a cave.
So, I'm painting it bright white! I can't wait! I'm hoping to have the kitchen reveal finished by next Monday.
xoxoxoxo,

Masterpiece Monday Linky Guidelines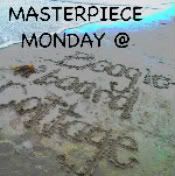 2. Feel free to link up any of your masterpiece's whether they're crafts, recipes, decor, thrifty finds, etc. (Please no direct links to etsy).
3. PLEASE. LINK. BACK. PLEASE.