I've been ignoring a little problem for some time now. But it isn't getting any better or going away.
Yike's! Our poor mail box has seen better days, that's for certain! Metal doesn't do too well by the beach.
Since Charles waters a lot near the mail box area too, he decided to make a new one out of some scrap wood.
I painted it with free recycled paint, using a stencil I made.
The entire mail box was free, including the hinges we already had.
AAAHHHH......much better!
I think our mailman's in for a surprise tomorrow!
Masterpiece Monday Linky Guidelines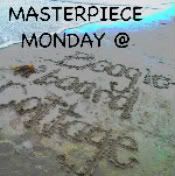 2. Feel free to link up any of your masterpiece's whether they're crafts, recipes, decor, thrifty finds, etc. (Please no direct links to etsy).
3. PLEASE. LINK. BACK. PLEASE.
Have fun!